Our Test and Reviews of CamSoda?

Today we are sharing our experiences using CamSoda.com. We will be discussing the show prices, costs, features, and general information about how CamSoda works in our CamSoda.com reviews.
First, let's talk about the prices for live sex webcam shows on CamSoda as that is one of the first aspects users want to know about when they are considering trying a new site.
How much does an adult webcam show cost on CamSoda.com?
The average price per minute at CamSoda.com for us was $3.07.
How we came to that figure was simply doing a 5-minute show with the first 3 performers listed on the home page and then dividing the total by 15 minutes.
While that is not a perfect science it's a pretty fair representative sample to ascertain the average prices of CamSoda.com.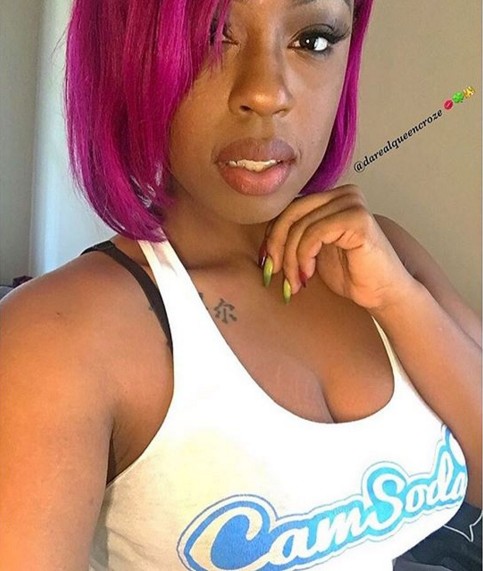 CamSoda, like almost all adult cam sites, allows the models to set their own prices per minute.
Likewise, CamSoda is also powered by tokens and most would consider it a freemium site of the focus on having multiple people in shows whereby tipping in the show is encouraged rather than guests being immediately encouraged into private shows. Open chat is more prevalent than private 1-on-1 shows on CamSoda.
With that being said private shows are possible and the site's functionality makes it feel as though private shows were not a second thought.
This is one of the first positive things we noted when we tried CamSoda.com. The site is very well laid out and the bright colors and clean interface make it a joy to navigate the site.
Moreover, features and the corresponding buttons are also very intuitively placed within the site. We discuss more of the features and functions of this adult webcam website below.
What's it like when you sign-up and first use CamSoda?

In order to start having a two-way adult chat on a webcam, you have to choose a username and password, enter your email, and simply verify your email. You will then see this screen asking, " Do you want to add a token now?"
Assuming you do, you click yes. Then you see this menu of costs/values for tokens.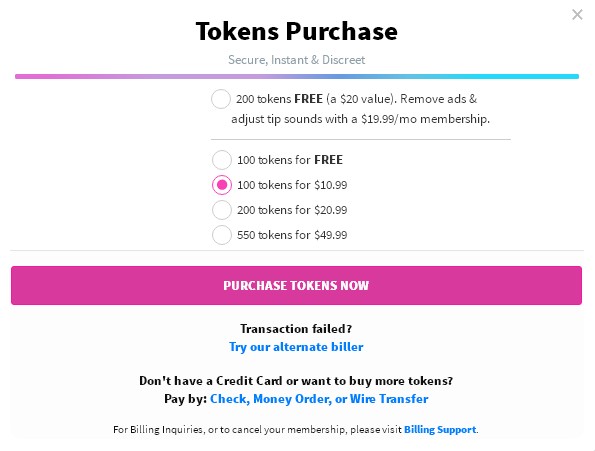 CamSoda token costs and values are:
100 Tokens is free and YOU DO NOT have to buy 100 to get the first 100 free!
200 tokens normally will cost $20.99 when you rebuy them next time.
500 tokens cost $39.99.

TIPS:
There is a membership option but it is optional and we suggest you wait to buy it or pass altogether. Just get the credits first so you can use the site. The advanced membership at $19.99 per month is not necessary to use the live webcams at CamSoda. All you get with this upgrade is the removal of ads and a slight discount on credits.
Sure, later on, if you use the site often enough do get this membership but to start with so you can test and try the site stick with the free credits package. You can see below from the Terms of Service screenshot that this first promotion package of 100 credits is in fact free.

Screenshot of CamSoda.com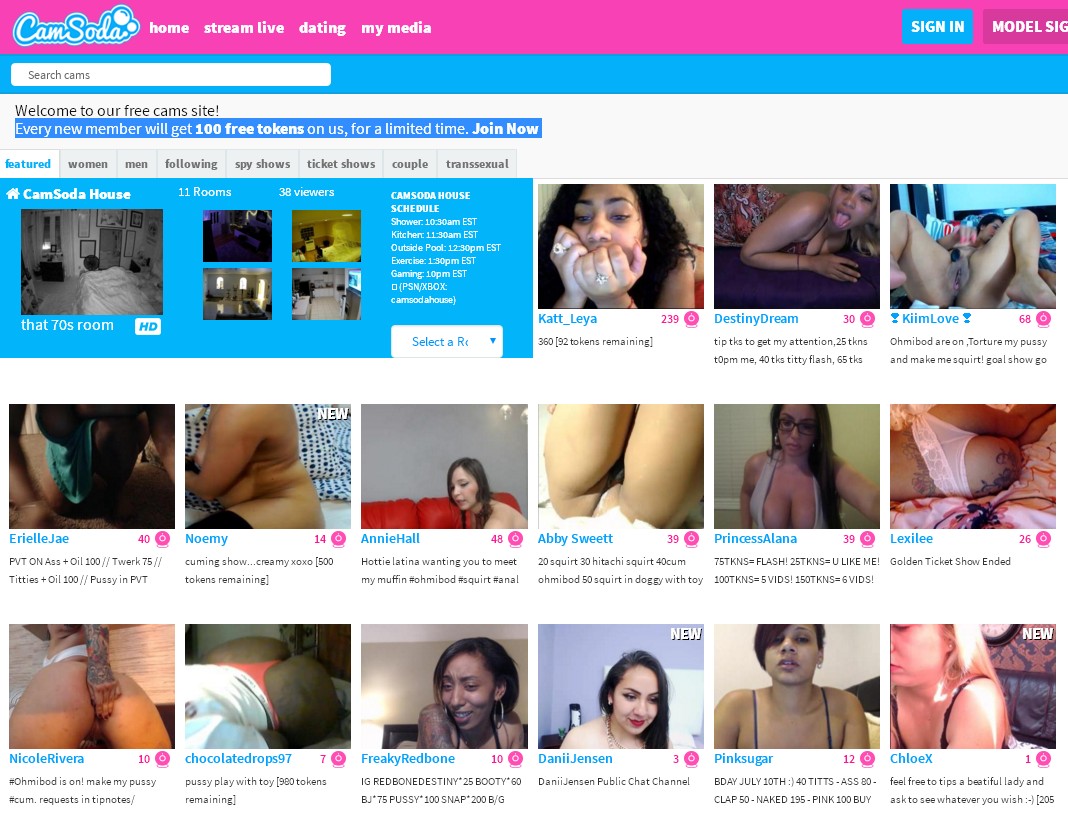 How many models are on CamSoda?
Our estimates based on surveying the site over many months are the CamSoda has around 3,000 total registered models. At most times of the day, you will see about 45-70 models live on cam. It seems that there are a plethora of famous pornstars registered on the site but oftentimes very few American girls are on cam. With that being said there is still a massive selection of sexy girls in live chat rooms at all times. Hence, most people won't have any issues with finding someone to chat with that fits their preferences.
Area the site can improve:
However, it is fair to say that there are more European women here than American webcam girls. That also will affect the number of cam models who speak English

Notable Features of CamsSoda.com
Follow: You can follow your favorites and then they will be featured on your home screen the next time you log in. As a long-time user now of this site I can tell you that this is a feature that makes the site more fun over time because models with your personal preferences are then shown to you as you follow more and more models.
Rate Up or Down: You can rate up or down and see what other users have said about each model.
Private Shows: There is a pink button that says 'PRIVATE'. Before you commit you can see the costs for private shows from each performer.
Wide Variety of Payment methods: Check, Wire, money order, or online credit cards. They use both Epoch and SegPay and which does mean you can buy credits via PayPal using Epoch.
Voyeur House: One thing that sets CamSoda apart is the voyeur house on the home page where you can spy on girls in a house on live webcams. This feature has shrunk and becomes less and less of a focal point for the site over the past year as more and more models have joined the site.
Full-Screen Zoom: Let's be honest, angles and up-close shots are really important when it comes to having an erotic webcam experience and CamSoda has done a fine job at building its zoom functionality.
Buy Snapchat or Content: Models sell their Snapchat usernames and content here as well.
Token History: Kudos on how easy it is to track your spending with this feature.
Load Times on CamSoda: CamSoda is one of the fastest adult webcam sites online.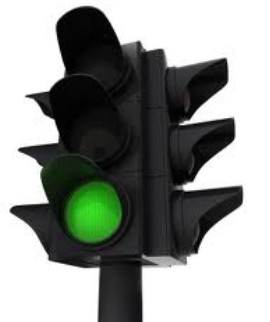 What other sites are like CamSoda?
CamSoda stands on its own being that it's a totally original platform. Therefore, you won't find any clones or white labels of CamSoda; at least so far. However, from the aspect of the user experience, they offer both Chaturbate (review at that link) and BongaCams.com (review at that link) are similar.
However, CamSoda does a far better job than both at making the experience feel private.
Is CamSoda.com a legitimate site? Conclusion of our CamSoda.com reviews
Again, CamSoda presents itself as a freemium site but offers the best of both worlds in that true premium private shows are available. The site doesn't cost nearly as much on average as Flirt4Free (review at that link) nor LiveJasmin (review at that link) and for that reason, we think of this site as one of the better values in live webcam entertainment for adults.
Yes, CamSoda is still the new site on the block but over the past 1.5 years we've watched this site gain status and popularity as more and porn major American porn stars have started to choose to broadcast from here.
In conclusion, it's clear this adult webcam site is going to be at the top of the pack in the coming years and we feel good about sharing CamSoda as a safe place for adult webcams chat.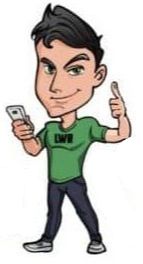 Henry is a self-admitted sex cams junky that loves to test and try out interactive forms of adult entertainment such as live webcam sites.
Read first-hand honest reviews about live cam sites here.