I recently ran across Jerkmate, tested it, and just had to write a review. I hate to speak badly about any cam site but it was clear that I had to spend some time sharing the truth about Jerkmate.com since so many fabricated and financially induced positive jerkmate reviews are online already.
Listen up, people. You cannot slide a cheap cut of beef by Henry and claims it's a fillet minion.
"Never Jerk Off Alone" is their claim. It is utter bullshit.
Let's start with the positive aspects of jerkmate but just make sure you read this one through to the end as there is some funny business going on at Jerkmate; that I can assure you of.
Jerkmate's intuitive, modern interface and extensive selection of top cam models may provide a professional polish, but this live cams site is hardly unique.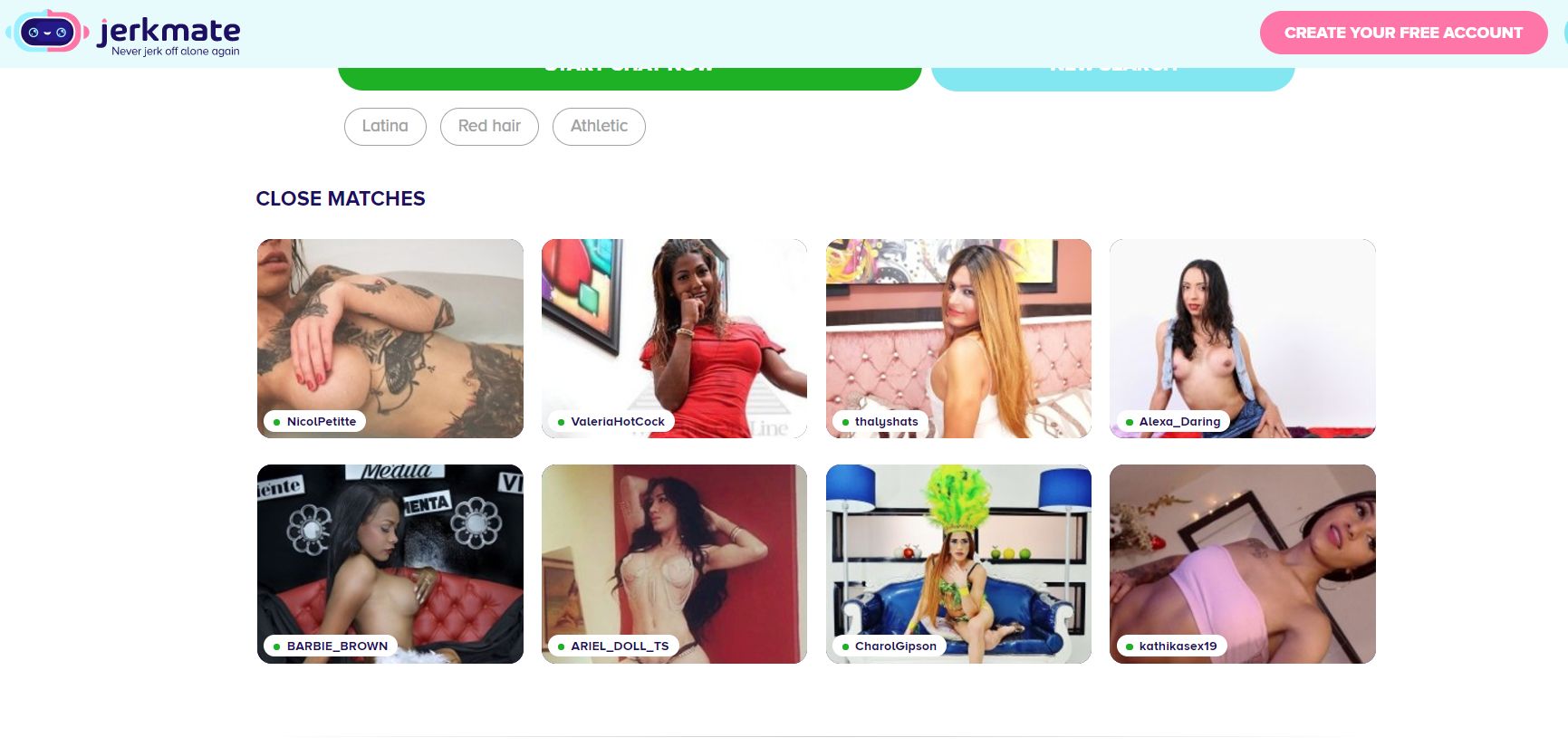 Just in case the name didn't tip you off immediately, Jerkmate is in fact just one of many Streamate white labels that help funnel traffic–and money–toward the parent site.
Jerkmate is Basically a Counterfeit Live Cam Site (Not Even Really Free)
Jerkmate's landing page uses a matchmaking questionnaire to pair up viewers with a random cam to enjoy. This not only disguises the site's true identity but also teases new viewers into signing up for the site.
Once you make your way to Jerkmate's actual homepage, however, you may even mistake the white label for a "light mode" Streamate! It doesn't just host all the Streamate models you know and love but retains all your favorite features too. You can tell right after registering at jerkmate when they send you to jerkmatelive.com. Just look at her man. This is a big fat ruse! The joke will be on you.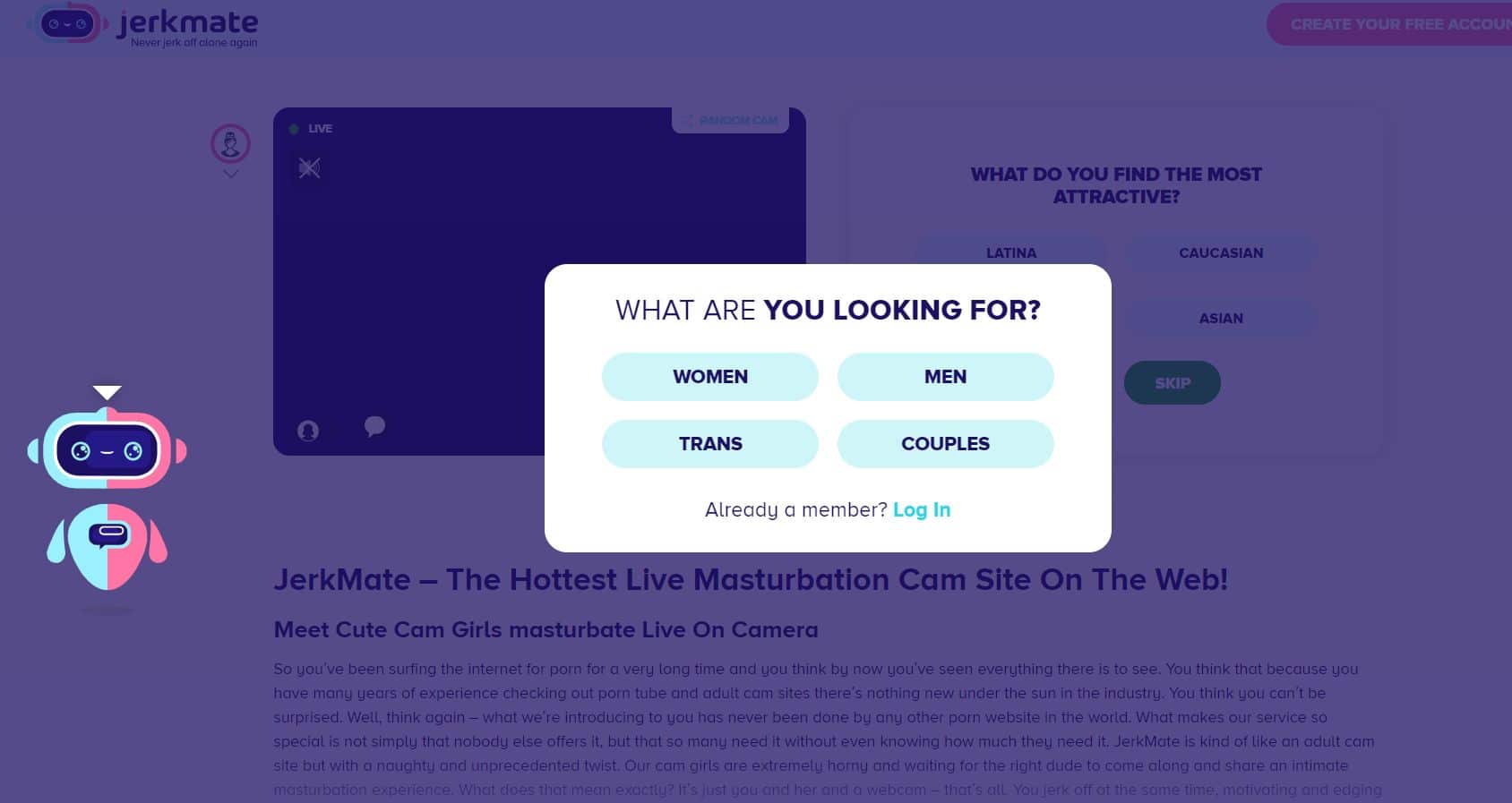 Before I write this list of so-called jerkmate features I respect your time too much as a reader to not just come right out and tell you this is a marketing play. The whole landing page just attempts to convince you that jerk mate is even a real thing.
It is nothing more than a white-label logo over an existing cam site called Streamate.com and if you want to enjoy jerkmate cams then go to the true platform providing what jerk mate is trying to repackage.
Skip all the nonsense and just read the streamate review!
Sure we love the underlining site but not a worthless duplicate of it. 🙂
Jerkmate Site Features
Jerkmate hosts female, male, trans, and couples' cams
Thousands of models stream online at any given time, day or night.
This platform boasts a user-friendly home page with intuitive model filters for show features, geographical region, age, and physical features
Model bios are chock full of information and free content to enjoy, including photos and videos. You can also purchase NSFW videos directly from a model's profile.
Multiple ways to play:
Guest Chat: Engage in sparkling conversation with your favorite model and see what's on the menu–the GOLD menu, that is! In Guest Chat, GOLD can be exchanged for lighter fare like
flashing or teasing, but the real action happens in Private Chat.
Classic Chat: In Classic Chat, the only person who can view your messages is the model. (The funny thing is that this feature list is really another site and our webcam site reviews will give you a complete picture of the places to do dirty cams chat).
Party Chat: Party Chat allows members to view each others' public messages as well as the models. If you're on the shyer side or would like to send the performer a discreet message, have no fear! You can opt to hide your messages from other members in the chat room by making your message "invisible!"
Private Chat: Enter a pay-per-minute clothing-optional chat room with the model and any other members who want to join in on the fun.
Exclusive Chat: Leave the other members behind and have some real one-on-one quality time with your favorite performer.
Discounted Block Sessions: If you want the intimacy of a private show without the premium price tag, try out a Block Session. Longer "blocks" of time pre-purchased with a model will grant you a larger discount (up to 20% off an hour-long session!) I talked more about this in our sex cams blog.
GOLD Show: Some models have a gold bar under their preview thumbnail to indicate when a GOLD Show countdown is happening. Although Streamate, and therefore Jerkmate, is primarily a premium cam site, GOLD Shows provide a crowd-viewing experience that rivals popular freemium platforms. Each member tips a set amount towards a model's goal in order to reserve a front-row seat for their special performance. GOLD Shows are a great way to check out multiple models without breaking the bank, which is great for new members and members on a budget!

Jerkmate is not free but the butt of the joke is it's not even offering its own webcam sex site. See the next image.

CAN IT BE ANY MORE DUBIOUS WHAT THEY ARE UP TO AT JERKMATE with the JERKMATELIVE offers that are supposedly something new?!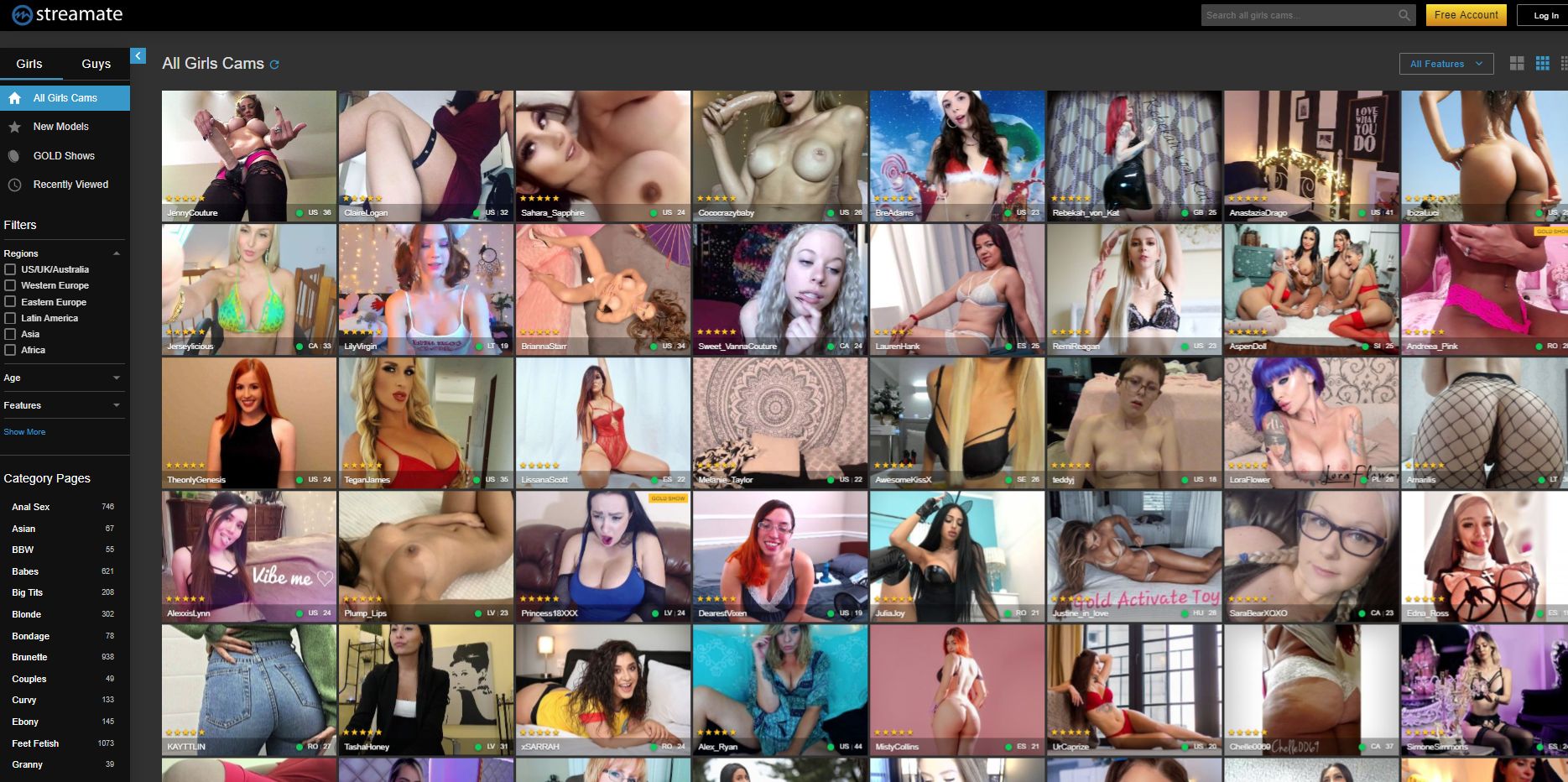 Enable Cam2Cam to connect your webcam and mic for an even more interactive private show.
If you're too shy to bare it all on the webcam, try out Jerkmate's confidential phone service. You'll be able to call models directly during a private show for some naughty conversation!
GOLD Club: Can't get enough of your favorite model? Then sign up for their GOLD Club–a personalized monthly subscription fan page with exclusive content you won't find anywhere else.
Rewards: Earn rewards through Jerkmate's loyalty program and receive credits on your account by staying active on the site. Users who consistently spend time in paid chat earn back a percentage of what they spend in the form of site credits every week!
I should also share you may benefit from reading our guide to live sex webcam sites.
Jerkmate Prices – Jerkmate Free? YEAH RIGHT!
Streamate and Jerkmate share the same prices for all content and services since Jerkmate is a white-label site. If you take away nothing else at all from this review never register on Jerkmate.com but instead go to the real source that powers jerk mate at Streamate.com; and yes register there. You get full access to all copies of Streamate including this fucking silly robot sex cams site!
You can sign up for Jerkmate for FREE but do so at

streamate.com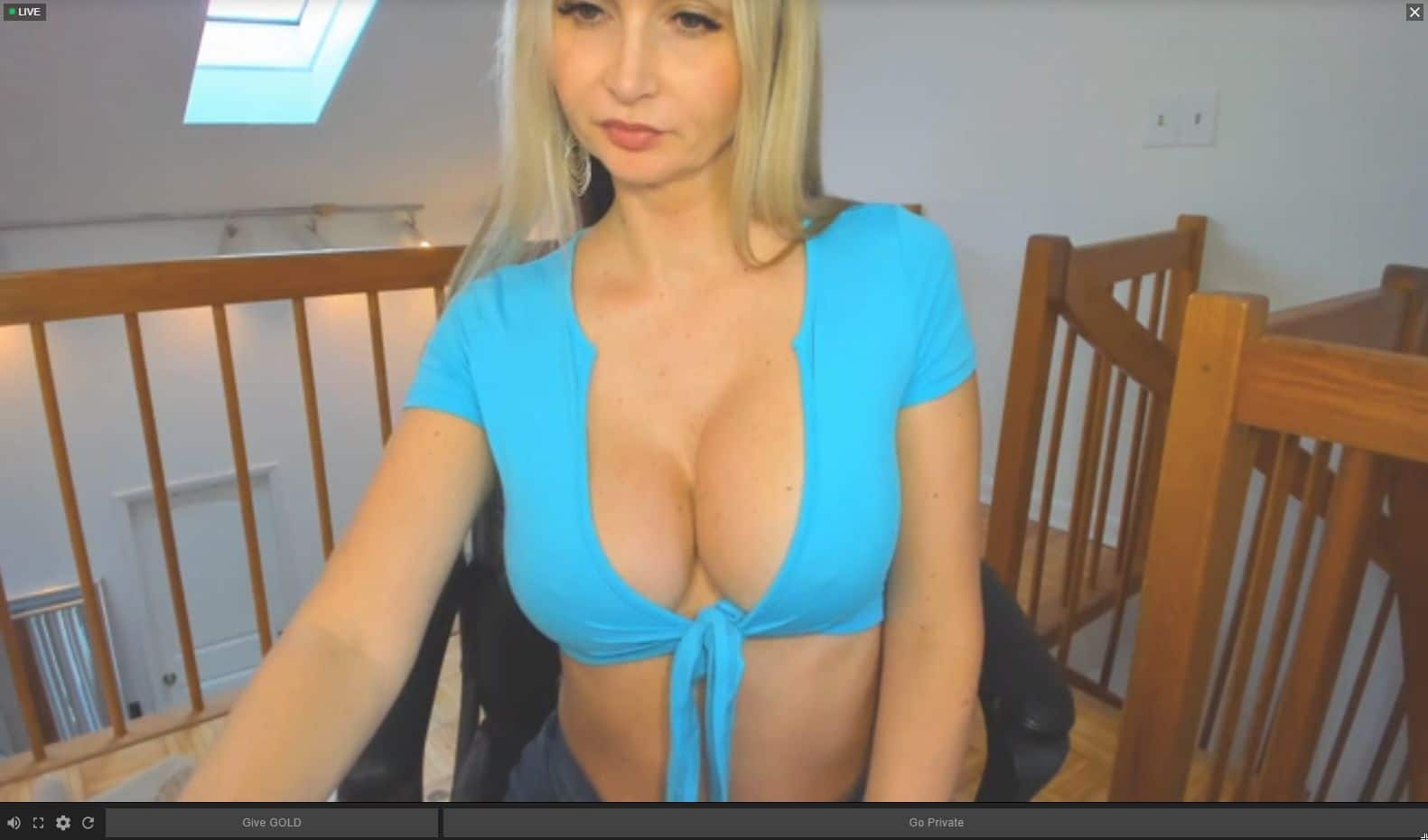 Models set their own prices for their shows and content, so prices vary from performer to performer.
Jerkmate uses the same currency Streamate does: well duh!
Of course, they do.
Anyway since jerkmate is not free. These are the prices for jerkmate but REMEMBER TO REGISTER AT STREAMATE.COM instead of jerkmate.
GOLD. Fortunately, GOLD is one of the most comprehensive in-site currencies on the net, with a 1:1 conversion rate to US dollars. This is especially relieving when you consider all the cam sites that use tokens. Tokens tend to have wildly variant values depending on the platform you're on and can be confusing for everyone involved!
1.00 GOLD=$1.00 USD
These are the REAL Jerkmate Prices
If you like all the features Jerkmate has to offer, then AGAIN you'll love Streamate even more.
Keep in mind that Jerkmate is just a rebranded Streamate, and this rebrand is shoddy at best. Jerkmate's pastel palette and cutesy logo attempt to draw in an elusive female fanbase, but the platform's lazy attempts at market research do nothing to appeal to their intended audience.
Jerkmate Reviews Summary and Conclusion
Female models are the headliners on Jerkmate's homepage, and tags like "big tits" and "babes" still dominate the site's categories. You may enjoy reviewing our list of the 5 best live webcam sites as well.
As with all white labels, these pages are a quick way for marketers to sell a tried-and-true product while putting in zero production effort of their own. Don't give them the time of day and sign up for Streamate.com instead.
You'll be able to enjoy all your favorite performers on one of live cams' most trusted platforms on the web. No bullshit. No tricks. Just live cyber sex 24/7 with the net's hottest models.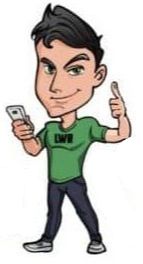 Henry is a self-admitted sex cams junky that loves to test and try out interactive forms of adult entertainment such as live webcam sites.
Read first-hand honest reviews about live cam sites here.