These days their are a wealth of tools online to search and see what people are searching for, when they are searching for it, and what the trends are with those keywords searches over time. From Alexa.com to Google Trends you can learn a lot about any industry if you spent a little time looking into the related keywords. With that being said we were curious to see what the trends were with the worlds largest 3 adult live webcam sites. Sites that are arguably the most popular or most discussed. These 3 sites are:
1. LiveJasmin (LiveJasmin.com)
Read the streamate reviews or…

2. Streamate (Streamate.com)
Read the livejasmin reviews or …

3. ImLive (Imlive.com)
Read the imlive reviews or …

We also though went one step further by adding what we already knew were some tops search queries related to live webcams for adults. Those were, 'live sex' and 'adult webcams'. We then compared the search volume for these terms versus the existing search trends over the same time frame to better gauge roughly what percentage of people were searching the very terms related to what they were find in the initial searches.
Check this out…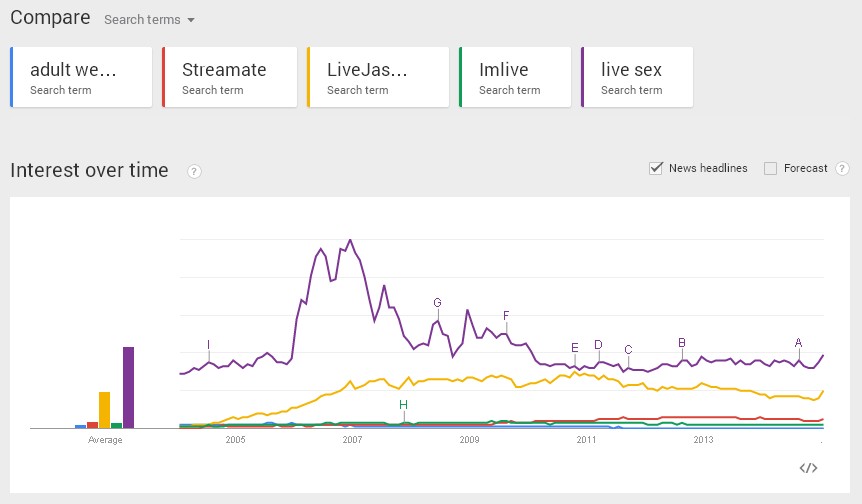 What's the point you ask? PEOPLE WANT TO KNOW ABOUT THESE SITES. Just like we wanted to get more information on these sites when we first started using live webcam sites for adults. You can read more about our live webcam reviews on the about us page.
However, the whole point of sharing this post is so that you can see first hand why we felt compared to launch our adult live cam site review web site; sites like these are nearly mainstream these days but few people talk about their experiences using them.